By ECHL standards this is a light week for the Allen Americans. ECHL weeks are measured from Monday thru Sunday and in each of the last three weeks Allen has played four games. This week the Americans will play just two games but they better rest up because next week Allen will play a season high five games. Next week Allen plays at home on Monday and in Utah on Wednesday, Friday, Saturday and Sunday.
–  The only games for the Americans this week are tomorrow (Wednesday) and Saturday in Kansas City. Haven't been able to figure out the two day gap between games. A scheduling conflict at the Kansas City arena (Cable Dahmer Arena) would be the expected cause but its calendar does not show a conflict. It adds a lot of expense to have two days between games.
– The Americans will practice today and fly to Kansas City tomorrow. They will have two down days in Kansas City between the games on Wednesday and Saturday. The Mavericks play in Wichita tonight and will travel back to Kansas City (200+ miles) after the game.
– The 2021-22 ECHL schedule will be released this afternoon (1:00 pm CDT) and should be a return to normal after a season with all but three Allen games played within the division. The 2021-22 season will open on Friday, October 22, 2021 and run through April 17, 2022.
– I haven't seen the complete schedule but I do know the Americans will have home games against the new franchise in Iowa, the Orlando Solar Bears and the Newfoundland Growlers.
– Among Allen's road games next season will be trips to Cincinnati and Toledo.
– The traditional New Year's Eve home game is on the 2021-21 schedule.
OTHER COMMENTS
– The ECHL announced yesterday that the Fort Wayne vs Indy game scheduled for May 4 was forfeited by Fort Wayne pursuant to Rule 66.1 which says if a team fails to comply with rules and regulations they will forfeit the game 1-0. According to the statement from the Komets the Fort Wayne players opted not to travel for the game even though all ECHL protocols that had been agreed to prior to the season had been met. Here is the complete statement from Fort Wayne: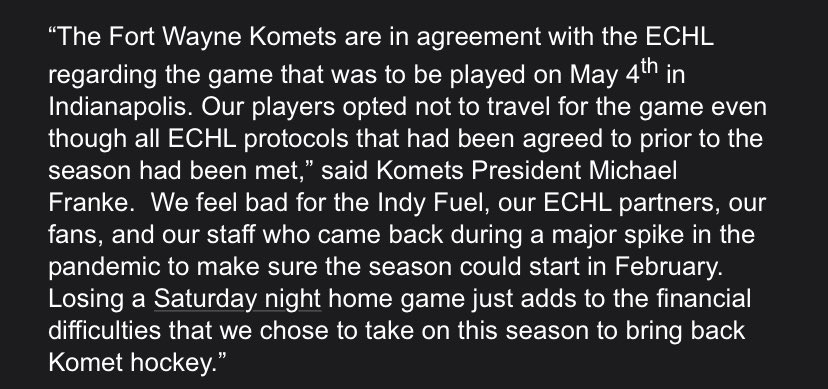 – One of Steve Martinson's coaching strengths is his ability to identify players with potential and put them in a position to thrive. There are so many players that have had their best offensive season in Martinson's system. I was looking at Joe Garreffa's stats last night and noticed the difference between his stats in Allen versus in Orlando. Garreffa started the season in Allen and played in 11 games before he was recalled by San Jose. In those 11 games Joe had 13 points (6G, 7A) and was named ECHL Player of the Week (Dec. 28 -Jan. 3). Garreffa returned to Allen for seven more games before all San Jose players were pulled from Allen and sent to Orlando. In total, Garreffa played 18 games for Allen and had 21 points (9G, 12A) with a plus minus of +6. Since arriving in Orlando, Joe has played in 27 games and has 14 points (1G, 13A) with a plus minus of -7. Garreffa is one of those players that thrived in Martinson's system.
DID YOU KNOW: Allen has won five overtime games this season with five different players scoring the game winning goal (Tyler Sheehy, Brett Neumann, Joe Garreffa, Spencer Asuchak and Corey Mackin. Here are some stats on overtime goals:
ECHL leaders in overtime goals since 2017-18:
2020-21
4: *Matt Marcinew, Indy
2019-20
3: Gabe Gagne, Allen
3: Derian Plouffe, Indy
3: Justin Taylor, Kalamazoo
3: Alex Kile, Maine
2018-19
3: Kyle Blaney, Kalamazoo
2017-18
3: Micheal Joly, Colorado
3: Desmond Bergin, Adirondack
*Matt Marcinew is just the fourth player in the last 15 years to have four overtime goals in a season. Here are the other players to have four overtime goals in a season. FYI, the ECHL increased overtime from five minutes to seven minutes starting with the 2019-20 season:
2013-14: Mickey Lang (Orlando & Fort Wayne)
2013-14: Mike Ratchuk (Wheeling)
2016-17: Tommy Thompson (Greenville)